To help ensure that every project funded by the Salmon Recovery Funding Board is technically sound, the board's review panel evaluates projects to ensure they have the following:
High benefit to salmon.
High likelihood of being successful.
Costs that don't outweigh the anticipated benefits of the project.
Review Panel Members
Michelle Cramer; professional engineer; senior habitat restoration engineer, Wild Salmon Center; Olympia
Ms. Cramer brings more than 25 years of engineering experience in reviewing, designing, and managing stream habitat restoration projects throughout Washington State. She served as a senior engineer at the Washington Department of Fish and Wildlife and was the managing editor of Washington State's Stream Habitat Restoration Guidelines and the Integrated Streambank Protection Guidelines. Ms. Cramer is a certified project manager and earned a bachelor of science degree in environmental engineering from Humboldt State University with an emphasis in water quality.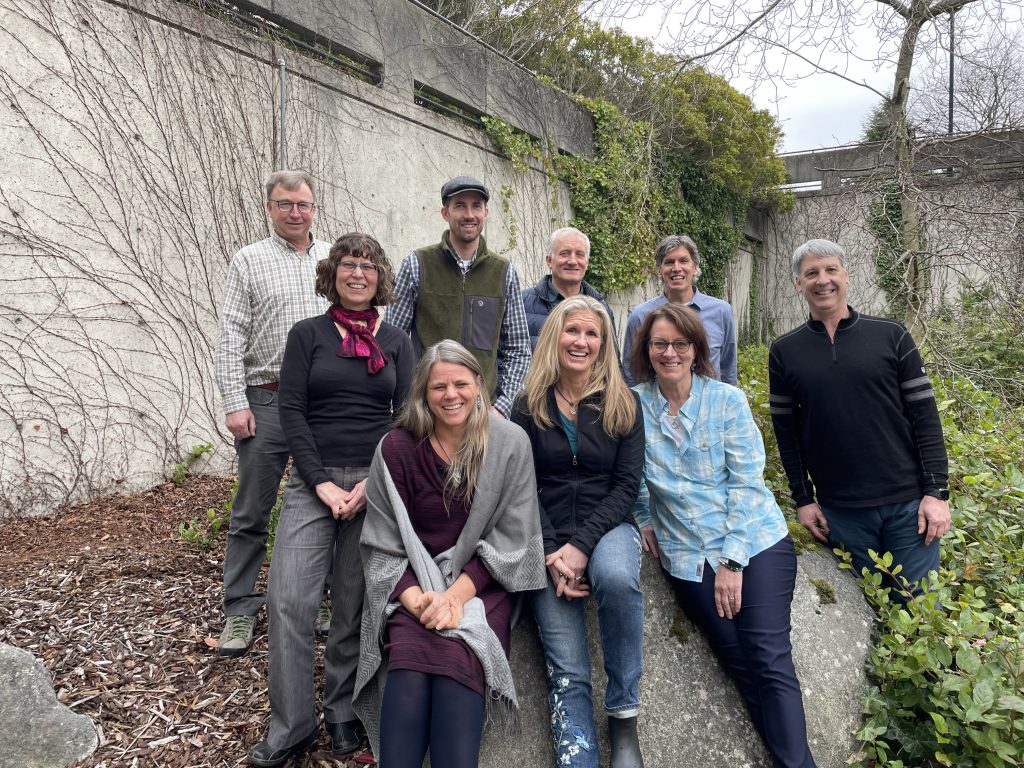 Back row (left to right): Tom Smayda, John Gaffney, Alex Uber, Paul Schlenger, Steve Toth; front row (left to right): Marnie Tyler, Jeanette Smith, Jen O'Neal, Michelle Cramer.
John Gaffney; professional engineer and principal habitat restoration engineer; Hood River, Oregon
Mr. Gaffney is a principal habitat restoration engineer at Inter-Fluve. His career in restoration design in fluvial, estuary, wetland, and meadow systems began in the mid-2000s. Today, he leads interdisciplinary teams performing hydrologic, hydraulic, geomorphic, and biologic analysis and modeling for project development and design of habitat restoration projects across the country with a focus in the Pacific Northwest. Many of his project designs use large wood structures for geomorphic influence and riparian regeneration, along with providing immediate and long-term aquatic habitat value. He brings a systematic and organized approach to all aspects of his work, including the construction phase. Having overseen construction on more than 50 restoration projects, he's developed a style that integrates thorough planning, attention to detail, effective communication, and tight plans and specifications with allowances for field fitting where appropriate. He is a registered professional engineer in Montana, Oregon, and Washington, and holds a bachelor of science degree in civil engineering from Michigan Technological University and a master of science degree in civil engineering from the University of Minnesota's St. Anthony Falls Lab.
Kelley Jorgensen; president, founder, and principal of Compass Ecospatial LLC; ecosystem restoration ecologist; Ridgefield
Ms. Jorgensen has more than 33 years of experience in the design, planning, and implementation of applied aquatic and terrestrial ecological studies. She specializes in formulating ecosystem approaches to habitat restoration, compensatory mitigation, conservation, sustainability, and climate resilience in blue, green, gray, and hybrid infrastructure and development. During the past 30 years, she successfully has collaborated with a wide range of public, private, and nonprofit organizations in developing practical solutions to habitat conservation and related complex environmental management and regulatory challenges, especially related to water-dependent and water-intersecting infrastructure.
Jennifer O'Neal; Co-chair; fisheries biologist; Mount Vernon
Ms. O'Neal is a senior fisheries biologist at Natural Systems Design with 22 years of experience in stream restoration monitoring, salmon habitat restoration design, and riparian ecology. Her field and research experience includes developing protocols for monitoring salmonid populations, measuring the effectiveness of floodplain restoration projects, and determining data quality levels in monitoring efforts across the Pacific Northwest. Her current focus is using remote sensing techniques and topographic surveys to assess changes in floodplain habitats due to restoration actions. She also is interacting with community watershed groups and research centers at the Western Washington University, salmon recovery regions, and tribes to promote science-based watershed planning, efficient monitoring, and restoration. She holds a bachelor of arts degree in environmental science from the University of California, Berkeley, and a master of science degree in fisheries and aquatic science from the University of Washington.
Paul Schlenger; consultant; Seattle
Mr. Schlenger is certified by the American Fisheries Society as a fisheries professional. He has done extensive work in Puget Sound estuarine and near-shore environments. Mr. Schlenger also is certified by the Washington Department of Fish and Wildlife as a certified forage fish biologist and conducts eelgrass and macroalgae surveys. He has 16 years of experience working on salmon recovery, habitat restoration, and salmon ecology projects. He holds a bachelor of arts degree in environmental sciences from the University of Virginia and a master of science degree in fisheries from the University of Washington.
Tom Smayda; consultant; Seattle
Mr. Smayda is a civil engineer designing habitat for salmon, native vegetation, and beavers. He works to create conditions that look and function naturally. These include freshwater creeks, rivers, side channels, floodplains, marine salt marshes, sand spits, and shorelines. Infrastructure projects include bridges, bank stabilization, and industrial site plans featuring built-in naturalistic habitat. He conducts water quality and quantity evaluations of freshwater, saltwater, and groundwater systems, provides expert testimony, and has written scientific publications and policy statements for environmental protection. Mr. Smayda holds a bachelor of arts degree in biology from Lawrence University in Wisconsin and a master's degree in civil and environmental engineering from the University of Washington, and he is a licensed engineer in Washington State.
Jeanette Smith; aquatic ecologist; Seattle
Ms. Smith has more than 20 years of experience in the watershed analysis and evaluation field as an aquatic ecologist, with 15 of those years specifically focused on salmonid habitat analysis, monitoring, and restoration. As principal scientist with Pacific Watershed Institute, she was part of the team that developed the first watershed assessment modules for the Washington Department of Natural Resources and went on to develop and implement further fisheries and riparian habitat modules for assessment protocols for tribal entities via the Environmental Protection Agency. Much of her restoration and assessment work focuses on helping clients coordinate their efforts across ownership boundaries. Ms. Smith holds a bachelor of arts degree from the University of Colorado, Boulder and a master of science degree from the School of Fisheries at the University of Washington, where her research focused on the interactions of riparian and stream habitat in relation to salmonid habitat structure and function.
Steve Toth; Co-chair; geomorphologist; Seattle
Mr. Toth has expertise in watershed analyses, evaluating surface water and groundwater hydrology, surveying channel morphology and fish habitat, assessing riparian forest functions, delineating wetlands, analyzing slope stability, and calculating road erosion. He was a Fulbright Scholar in water management in Hungary and gained a College of Forest Resources Graduate School Fellowship at the University of Washington. He studied biology as an undergraduate at Carleton College and received his master of science degree in forest hydrology from the University of Washington.
Marnie Tyler; consultant; Olympia
Dr. Tyler is the principal and owner of Ecolution, an environmental consulting firm specializing in salmon recovery and habitat restoration. She brings 22 years of experience in natural resources with particular field expertise in riparian and wetland ecology. In addition to technical skills, Dr. Tyler brings experience in salmon recovery planning and policy through government service, including the Recreation and Conservation Office, Office of Washington Governor Christine Gregoire, Northwest Power and Conservation Council, Department of Fish and Wildlife, and the Puget Sound Action Team. She earned a doctor of philosophy in ecosystems assessment from the University of Washington, master of science in environmental science and master of public affairs from Indiana University, and a bachelor of science in forestry from the University of Missouri.
Alex Uber; professional engineer; Portland, Oregon
Mr. Uber works for the Washington Department of Fish and Wildlife in southwest Washington as an environmental engineer. Mr. Uber has worked throughout Washington and his experience includes freshwater and estuarine habitat function assessment, monitoring, and restoration project design. Mr. Uber holds bachelor degrees in civil engineering and biology, and is a licensed professional engineer in Oregon and Washington.